Replacing the dust cover on your AR-15 is a fun, inexpensive way to upgrade your AR rifles and pistols. Replacing the dust cover is simple and fast, and a great entry point into modifying your rifle. This article will tell you exactly how to install an AR-15 dust cover whether replacing a worn-out part or installing a custom dust cover from My Southern Tactical.
What is an AR-15 Dust Cover?
The ejection port dust cover is a small, rectangular piece of metal that covers the AR's ejection port when the rifle is not in use. The dust cover locks in place in the "closed" position. This protects the internals of the gun from collecting dust, lint, gravel, dirt, sand, or any other debris that might foul the rifle's smooth operation. The dust cover is often overlooked but is an absolutely ingenious addition to the AR-15. Those of you who have been in the military are doubtlessly neurotic about keeping the dust cover closed because of the not-so-subtle corrections issued by drill sergeants and squad leaders.
When the bolt moves rearward from charging the rifle or firing a round (or slamming the butt too hard against the ground) the dust cover is forced open. A spring holds it in the "open" position to allow fired brass to be ejected. The spring will hold it open even when the rifle is oriented upside down, preventing it from inducing a malfunction. Before installing a dust cover on an AR-15 rifle it is important to take some safety precautions. Let's take a look at those.
Assembly Instructions for a Steel Dust Cover:
Tip From the Experts - Tape off your ejection so you do not scratch your upper or lower receiver
1. First, using the needle-nosed pliers, snap the c-clip onto the hinge pin.
To do so, grasp it by the closed, back of the "C" and press it onto the appropriate groove in the hinge pin. Be careful; this tiny c-clip snap ring is easy to lose if dropped. Install the opposite end of the hinge pin into the forwardmost hole in a muzzle-to-butt orientation. Place the dust cover in its correct, "open" position and slide the rod the rest of the way forward, ensuring that it is going through the channel in the dust cover.
2. Once the hinge pin reaches the cutout in the cover, install the spring.
Place it into the cutout and push the hinge pin through. At this point you will have to carefully place the legs of the hinge pin spring so that pressure is applied to the "open" position and the dust cover will be held open during firing. Slide the hinge pin the rest of the way through.
3. Check your installation
First, close the ejection port. It should snap closed, and stay closed as you invert the upper receiver. Now push the ejection port cover open; it should snap open smartly under spring tension. It should also remain firmly open as you rotate the upper receiver.
4. Reassemble your AR-15
Installing a Polymer Dust Cover:
If you are installing a Magpul Enhanced Ejection Port Cover you won't need much of anything except the ejection port cover itself. The ejection port spring is captive and there is no pin – everything is contained in one, single part. Fitment is universal, making choosing one easy. Fitment issues are few and far between and generally the result of ordering a dust cover for the wrong rifle (AR 15 rifles vs. AR 10s).
Assembly Instructions for a Polymer Dust Covers:
1. Lay the upper receiver on its side with the ejection port facing up
If you are replacing an old ejection port cover, remove it now. With a mil-spec steel ejection port cover, you may have to remove the handguard and barrel nut prior to removing the hinge pin. Or, you may be able to remove it by pulling it toward the rifle's butt; there is a lot of variation here. If you are building a new rifle that does not have a dust cover installed, obviously you can skip this step
2. Simply snap it into place.
Start with the fixed pin, which goes toward the rear of the rifle. Pull the spring-loaded front stud to the rear and seat the dust cover in place. Allow the front stud to go forward and lock into place.
And just like that, your dust cover is installed. If you need more help,Magpul's instructions explain the process, and there are plenty of videos out there to help, as well.
Safety Considerations
As always, safety is paramount. Before conducting maintenance on any firearm, you should verify that it is unloaded. Remove the magazine (if present) and lock the bolt to the rear. Visually and physically inspect the chamber to make sure no ammunition is present. It would also be a really, really good idea to remove any ammunition from the room. Also, ensure the muzzle is pointed in a safe direction at all times. Just because you're working on your rifle doesn't mean you can ignore muzzle discipline.
Fortunately, these rules are somewhat easier to follow in the case of installing a steel dust cover. Since the barrel and handguard must be removed from the rifle to swap out a steel dust cover, the rifle will be rendered inoperable. The ideal time to install a custom dust cover is when swapping barrels or building a rifle from scratch. Still, it is important to keep safety in mind. Magpul polymer dust covers are very simple to replace and do not require extensive disassembly of the rifle, so following the safety rules is very important.
Tools & Parts Needed to Install an AR-15 Dust Cover
Installing a Steel AR-15 Dust Cover:
Minimal parts and tools are needed to install an AR-15 dust cover. First the parts: if you are installing a steel ejection port cover, you will need:
The new dust cover
The hinge pin
The ejection port cover spring
The hinge pin c-clip.
Painter's Tape (Optional)
These parts generally ship as a kit, so you don't have to shop for each individual component. The list of tools is even shorter: you will need a pair of needle-nose pliers.
Steel Dust Covers vs. Polymer Dust Cover Installations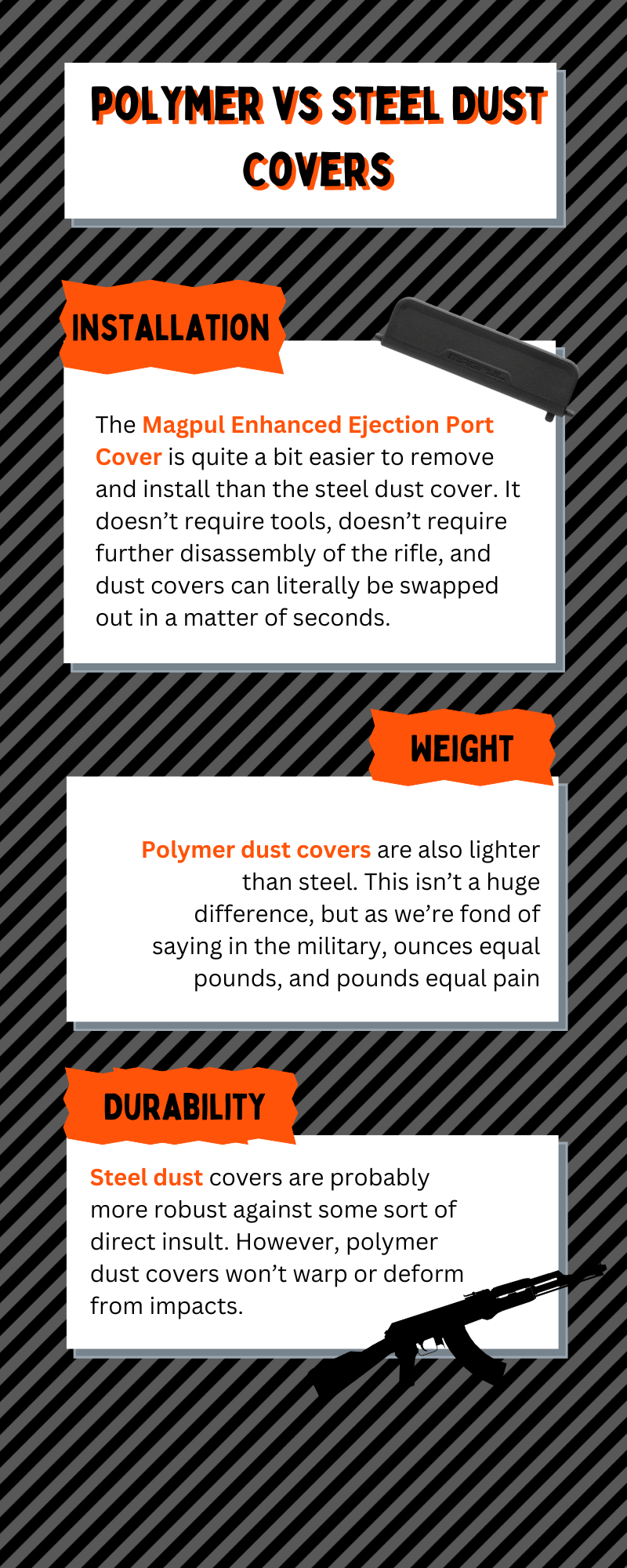 Steel dust covers have been the standard for many decades. We get a lot of questions about polymer dust covers vs steel dust covers. Both perform a similar function, but there are some significant differences.
Ease of Installation: First, as you can see, the Magpul Enhanced Ejection Port Cover is quite a bit easier to remove and install than the steel dust cover. It doesn't require tools, doesn't require further disassembly of the rifle, and dust covers can literally be swapped out in a matter of seconds. The old steel dust cover is one of the most poorly designed parts of the AR-15, requiring complex disassembly to change out a very small, simple part. Polymer dust covers elegantly resolve that issue.
Weight: Polymer dust covers are also lighter than steel. This isn't a huge difference, but as we're fond of saying in the military, ounces equal pounds, and pounds equal pain. Every fraction of an ounce adds up, and any weight savings are welcome.
Durability: Steel dust covers are probably more robust against some sort of direct insult. However, polymer dust covers won't warp or deform from impacts. They also won't rust or corrode…ever. And if something does happen to them? It takes all of about 30 seconds to swap out the offending part.
Why Do You Need to Install an AR-15 Dust Cover?
You may be asking, doesn't my rifle come with a dust cover? Why would I replace it? Good question, and we have some answers.
1. Wear and tear
Any mechanical part, no matter how strong, will eventually wear out. Many of you likely own AR-15s for self-defense and as a cheap insurance policy against difficult times. It's a good idea to be able to keep rifles for these purposes up and running. Damage to your dust cover is pretty easy to fix…if you know how to fix it and have the tools and parts to do so.
2. Customization
Another outstanding reason is to customize your rifle and give it some personality with a custom dust cover from My Southern Tactical! Add a simple, utilitarian".300 BLK" dust cover stating the caliber, a statement-making"Join or Die" dust cover, a Thin Blue Line dust cover showing your support for the brave men and women in law enforcement, or your own custom dust cover. There's a huge selection and something for everyone. If there isn't one for you, you can design your own, with the images on one or both sides of the cover.
All of MST's custom Magpul dust covers are finished with a durable finish. It will never chip or fade unless the polymer itself is damaged. Not only that, but we also offer an amazing selection of fun, funny, serious custom magazines, based on Magpul Gen 3 PMAGs. All items are custom-made, but shipping times are still outstanding. Be sure to check applicable laws and regulations before ordering magazines.
We love our black rifles…but we also love adding a little flair to them. Custom dust covers from My Southern Tactical are an awesome, simple, and inexpensive way to do that. Come see us and make your mark on your AR-15 today!